By Verna Mead of the Diane Olson Team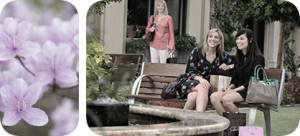 When I want to go shopping I love going to the Biltmore Fashion Park.  It is one of the finest outdoor shopping malls located in the center of Scottsdale, Arizona where you can walk leisurely thru lots of stores or just window shop in the interior shaded walkways of this beautiful and peaceful area.
One of my favorite times is during the Christmas season. You must see the Christmas tree made out of Poinsettia's!
If you have a dog, don't worry, Biltmore Fashion Park is "dog friendly" as long as the dogs are not aggressive and pet owners are responsible.  This particular shopping area has lots of places to sit and "people watch," sit on the grass and just relax.  When shopping for that special gift, this is the place to come with upscale jewelry stores, department stores and darling children stores not to mention "Doggie Store."
Biltmore Fashion Park has wonderful coffee specialty stores where people use their lap tops while enjoying coffee.  The ice cream stores are also very popular with the younger children and for the woman who has most everything, Sacks Fifth Avenue is there as well.
Leaders of Stunning Style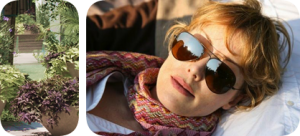 Location & Hours  
2502 E Camelback Rd
Phoenix, AZ 85016
(602) 955-8400
Mon-Sat: 10am – 8pm
Sun: 12pm – 6pm
Visit their website for a Store Directory – www.shopbiltmore.com.  Explore all your options for shopping, eating, drinking or just people watching.  Come and see why so many people just walk around the center of the mall.  Don't be surprised if people say hello and ask you how your day is going, it is a very friendly place!
Hope to see you there.
Diane Olson is a former Canadian police officer whose team of agents  has earned its reputation as Canada's go-to realtor for Canadians looking to buy vacation and investment property in Arizona.