By Donna J. Traylor of the Diane Olson Team
Boyce Thompson Arboretum

If you love the beauty, majesty and mystery of the desert and its plants, you'll want to venture out on a day trip to Boyce Thompson Arboretum.  An hour due east of Phoenix on the Superstition Freeway (Highway 60), you'll discover endless varieties of plants and nearly 2 miles of trails alongside unspoiled examples of native Sonoran Desert vegetation.  This spot is definitely worth the drive!
Watch for mile post #223 near the historic copper mining town of Superior and keep a sharp eye out for the entrance.  In fact, if you get to the town of Superior, you have gone too far!  Once in, you will be amazed at what they offer as an educational, recreational and research centre.  This includes guided tours, bird and lizard walks, a Cactus Garden and even butterflies and hummingbirds.  Within this exhibit is a rare hybrid hummingbird that is the star attraction amongst visiting experts in the field.  Also watch for my favourite seasonal plant sales – an affordable way to enhance your garden. 
Admission: $9.00
Hours: 8:00 to 4:00, September to April
Pets on leashes are welcome plus you'll find it a bit cooler than in the Phoenix Valley.
PS – For a lunch-time treat, head to Los Hermanos Restaurant for Mexican food.  It's not a fancy place but the food is good, the service always friendly, and they have some of the best homemade tortillas around.
For further information, check out: http://ag.arizona.edu/bta/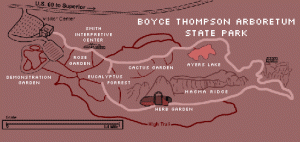 Diane Olson is a former Canadian police officer whose team of agents  has earned its reputation as Canada's go-to realtor for Canadians looking to buy vacation and investment property in Arizona.