By Jamie Baier of the Diane Olson Team
Yes, we have mountains in Arizona!  I love exploring many of the areas, the Mogollon Rim is one.  It is my personal favorite because it is close enough for a day trip of hiking and if you want to camp there is great camping sites throughout!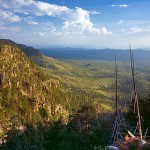 The Rim is an escarpment defining the southwestern edge of the Colorado Plateau and along its central and most spectacular portions is characterized by high limestone and sandstone cliffs, namely the Kaibab Limestone and Coconino Sandstone. It was formed by erosion and faulting, and dramatic canyons have been cut into it, including Fossil Creek Canyon and Pine Canyon. The name Mogollon comes from Don Juan Ignacio Flores Mogollón, the Spanish Governor of New Mexico from 1712 to 1715.
 Beside the vast vista what does the Mogollon Rim offer?
Sightseeing
Hiking Trails
Horseback Trails
Picturesque Lakes for boating and fishing
Even Backcountry Skiing – if you must (EVEN ME!)….play in the snow
Rock Formations of limestone and sandstones of the Carboniferous and Permian Periods.
Cities and towns near the Mogollon Rim include Payson, Sedona, Show Low, and Alpine, Arizona. The Mogollon Rim is practically bisected by Interstate 17 which runs north-to-south between Flagstaff and Phoenix.
 Several authors have written about this beautiful area.  So for some quite time you might consider taking a book with you, I know you will not have trouble finding a beautiful place to relax and read.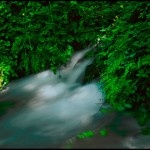 One of the best known western novel authors, Zane Grey, built a hunting cabin on the actual slopes of the Mogollon Rim just northeast of Payson, above Tonto Creek.  Grey's book Riders of the Purple Sage and several other of his widely read novels, were either set in this general area of the Old West, or inspired by it. Another novel-writer Louis L 'Amour's novel The Sackett Brand was also set in the area of the Mogollon Rim, with the cliffs of the Rim being specifically described.
With the rim extending approximately 200 miles (320 km) from northern Yavapai County eastward to near the border with New Mexico there are lots of opportunities to explore.
Don't be surprised if you run into me there.  Happy Trails!
 Diane Olson is a former Canadian police officer whose team of agents  has earned its reputation as Canada's go-to realtor for Canadians looking to buy vacation and investment property in Arizona.