By Suzette Tzineff of the Diane Olson Team
Okay, so we don't have snow in the valley much during December which may make it hard for you to get into the spirit of Christmas.  It can also be why you see so many decorations here, as it is our way of bring that feeling to life.
Here are a few tips to consider!
In Arizona, live greenery dries out quickly and often leaves disappointment by the time Christmas arrives.  Here are a few ways to use other decorations to enhance the Christmas décor.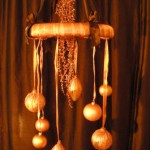 Ornate Chandelier – A great way to glitz up your dining space is to make a hanging centerpiece showing off your ornaments.  Take your favorite ornaments and hang them from your dining room chandelier. This looks best when you string baubles at different levels with colorful ribbon.  Don't be afraid to use colors you enjoy, remember Christmas doesn't have to be red and green!
2-D Tree – If you want to save a tree or avoid the messing needles, use strings of Christmas lights, to make an outline of tree on a wall.  Lightly pencil an outline of a Christmas tree on the wall (you can remove it later with a clean art-gum eraser); secure two tiny nails or tacks at each "point" and run the cord around the edge.  Even when you have a small room you can create magic and if you home is large this is a great way to brighten up a hallway.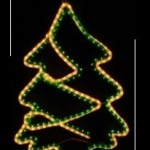 Dress up a Wreath – Instead of hanging one above your fireplace, establish a focal point by using a mirror to frame it.  This is a great idea and much unexpected in a bedroom.  Embellish a plain, readymade wreath using your favorite ornaments, and use one that coordinates with the rooms color.  You can also use tiny gold and silver ornaments, which don't clash with any other colors in the room.  To install, run a loop of wide ribbon around the wreath and hook it on the nail behind the mirror.
Beautiful Wrappings – Wrapped packages or wrapped empty boxes is a great way to dress up a room and add that festive feeling.  Select different patterns and solid papers in the color you have chosen to decorate with.  You can match the blues or greens in the room or use a selection of gold or silver.  Remember to use a variety of different size packages and stack or arrange them to fill you space.  Make your arrangement more interesting by using large baskets to hold packages or a child's wagon or old fire engine push toy.  These added touches add a unique charm to your Christmas décor.
Don't forget to use Christmas lights on the outside of your home.  Wrapped around cacti and laid on bushes and trees can add lots of curb appeal.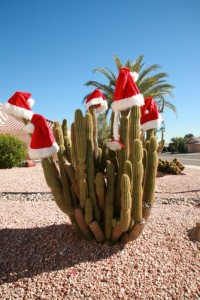 Diane Olson is a former Canadian police officer whose team of agents  has earned its reputation as Canada's go-to realtor for Canadians looking to buy vacation and investment property in Arizona.