By Lara Wolf of the Diane Olson Team
 Having worked with Canadians purchasing real estate in Arizona, I know many of you fall in love with an area but the homes are not always as new or updated as you'd like them to be.  Worry not!  The main thing is location, location, location as you can ALWAYS remodel, but you can't change the neighbourhood.
 After 6 years, we finally remodeled our 1980's bathroom! Our initial intent was to do this before we moved in but life happens!  To save you some of our frustrations, let me offer a few friendly tips of advice, especially since this is likely the first time you'll be tackling renos as a Canadian:
If possible, remodel before you move in – especially if, like me, you are not a fan of dust/dirt
Discuss your project and get estimates from 2 or 3 contractors.  Make sure to ask people you know and trust for the names of contractors they know and trust! 
Find a contractor who is willing to explain some of the different materials and construction techniques in Arizona i.e. tile vs carpet, wall finishes, snail showers etc.
Look for the right personality mix and someone you can get along with
Ensure you share the same vision for the project. You might have an idea of what you want in your head but it is hard for us as homeowners to picture the finished product so find someone that makes suggestions and is creative
Only hire a contractor who is both licensed and bonded.  There are a lot of cheap, fly-by-nighters out there
Be patient! If you are told the project will take 3 weeks, plan for it to take 4-5 weeks as things don't always go as planned.  However, if you do finish in the 3 weeks, then you will be extra impressed and pleased as I was!
Don't try to save a buck and cut corners!  The saying is true…you get what you pay for and with a remodel, think about an eventual re-sale (sorry that the realtor in me!)  You want to make sure a home inspector finds everything done to code or you'll pay extra in the long run if you ever have to put your home back on the market.  Pay the extra money now and it will pay off ten-fold in the long run
 Here are shots of my beautiful new bathroom.  Doesn't it look gorgeous!!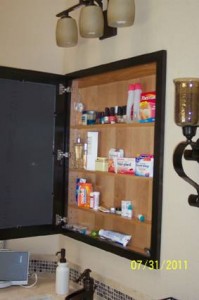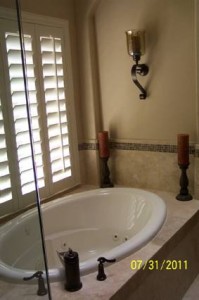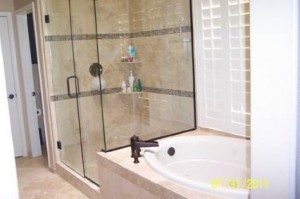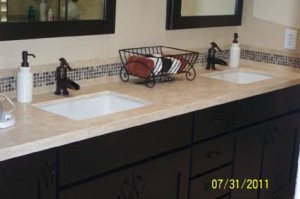 Diane Olson is a former Canadian police officer whose team of agents  has earned its reputation as Canada's go-to realtor for Canadians looking to buy vacation and investment property in Arizona.