By Eileen Bible from the Diane Olson Team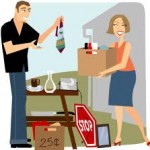 Garage sales are always fun to go to because someone else may not want something anymore but it could be just what you are looking for.  Or if you are trying to decorate or get a few things for a second home, child going to college, child moving out, just starting out on your own or the enjoyment of getting something new for a special place in the house without paying a lot for it.
 Now when you garage sale in Arizona it is a little different than some other areas of the country.  Since it is warm, our garage sales will start at break of dawn usually around 7:00 AM year around and last only till about 12:00 PM in the afternoon.  Sometimes they will begin depending on how much a participant may have on Friday and Saturday only.  Most participants do not hold a garage sale usually on Sunday.  The best day I have found to garage sale is on Saturday it seems like more participants will hold a garage sale always on Saturday.   To find the different areas to garage sale at is fairly easy, you could just drive your neighborhood and look for the signs, look in your local neighborhood paper, check in the classifieds in the Arizona Republic, ask friends, family or neighbors, check in Craig's List, or Google garage sales on your computer top and you will find a website that will have a map of all garage sales in your neighborhood.  This website is great http://gsalr.com/garage-sales-phoenix-az.html if you go to the website it will list all the garage sales coming up on a map with a red tag and if you click on the tag it will give you the address, cross streets, description of what they are selling, the dates and time they will be having it.  But what I have found is the more populated areas of the valley is the best areas to garage sale in if you want to just go driving around because you will spend less time driving from area to area and you will have more chances of the garage sales being closer together.   Now when you are at the different garage sales and you find that special treasure you do not have to pay what they have on it or what they say they may want for it.  You can ask it they will take a lower amount by asking "what is the lowest you will take for this item or just give them a number of what you would like to pay.  Most of the time, you will get it for lower but not always.  Also garage participants are more willing to negotiate the later in the day it is getting.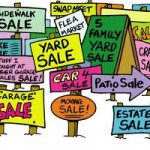 The bottom line is go out and just have fun with it, Arizona has 300 days of sunshine and it is a great way to spend some time with friends, husbands, and family  members and won't break the bank. 
Diane Olson is a former Canadian police officer whose team of agents  has earned its reputation as Canada's go-to realtor for Canadians looking to buy vacation and investment property in Arizona.