By Eileen Bible of the Diane Olson Team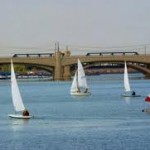 When I just want to get out and not go far, right here in Tempe there is a great place that has lots of activities that I can consider doing.
Set adjacent to Tempe's Mill Avenue District, Arizona State University and the 2,000 acre Papago Park.  Tempe Town Lake is a regional and national destination, welcoming millions each year.  Recognized as a top attraction in Arizona, visitors and local families spend their time enjoying nature, recreational activities, and cultural events.  New office buildings and high-rise housing are under construction and create an active, urban environment in which people live near their work and play near their homes.
Boating and Fishing:
Sail away a sunny afternoon catching your limit of Tempe Town Lake's 11 varieties of fish, with the best catch rate in the state.   Fishing is permitted with a standard fishing license that you can purchase at local sports stores.  One of the best and most fun things to do is rent a boat at Tempe Town Lake Boat Rentals; they have so many choices like Paddle boats, Pontoon boats – that can seat 10, Kayaks – Single and Double, Hydro Bikes, Stand up Paddle, and Duffy Electric Boats – that can seat up to eight.   For team activities you can try your hand with Dragon Boating – A dragon boat is a very long and narrow human powered boat used in the team paddling sport of dragon boat racing which originated in China,  Rowing.  And of course Outrigger Paddling.  Visitors can bring their own boat to the lake after purchasing a permit.  You can store your boat also for a fee. 
Walking, Jogging and Biking: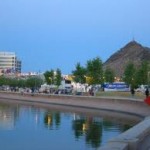 The 2.5-mile lake has 12-foot concrete paths on each side of the lake offering 5 miles of paths. The north and south shores of the lake are connected by the Mill Avenue bridges and the Rural Road Bridge. Paths around Tempe Town Lake are open from 5 am to midnight every day for your enjoyment.  They have Bicycle Rentals available at the Bicycle Cellar. 
Segway Tours:
Segway of Tempe brings you the Tempe Town Lake Discovery Tour aboard the world's only self-balancing personal transporter, the Segway. With a little training you will be ready to explore Arizona's jewel in the desert.
Picnic:
Picnic tables are located at Tempe Town Lake at Tempe Beach Park, Town Lake Marina, and Picnic Point. Please note, all picnic tables are available on a first come, first serve basis and are not available for reservation.
Volleyball Courts:
You can now reserve volleyball courts at Tempe Town Lake. There are four courts to choose from located on the north bank of Town Lake just east of Mill Avenue.
Beach Park: 
Visitors can play at the Beach Park with slides, waterfalls and water cannons that shoot up to 20 feet high.  Attendants are on duty, it is free and open April through September.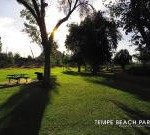 So take a short ride and experience the diversity of Tempe Town Lakes.
Diane Olson is a former Canadian police officer whose team of agents  has earned its reputation as Canada's go-to realtor for Canadians looking to buy vacation and investment property in Arizona.