By Donna Traylor of the Diane Olson Team
On a quite day some time back, my husband and I, were looking to do something… not sure what, just wanted to get out and about for awhile.  We had heard about and then saw on national TV where they highlighted the only working olive farm and mill in Arizona that has a great olive oil.  It is right here in our backyard.  So off we went!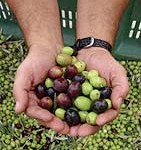 Located at the base of the San Tan Mountains in Queen Creek is the Queen Creek Olive Mill.  They produce a boutique hand-crafted extra virgin olive oil using nine varieties of olives.  This is a family owned company who for more than a decade has been producing different olive varieties to see what grows best in the Arizona desert.   With results, in my opinion, some of the best olive oil around while practicing sustainable farming practices.  They are dedicated to the environment and health of their customers.
You can enjoy:
·

        

Tour and learn how they produce their olive oil

·

        

Sample their wide variety of the flavored oils, baked goods, pastas and sauces

·

        

Purchase their products (great gift ideas; gift sets, tapenades and spreads)

·

        

Enjoy shopping for all olive related items (a wooden olive spoon to die for!)

·

        

Visit their Tuscan inspired eatery
The Olive Mill is located:
25062 S Meridian Road
Queen Creek, AZ 85142
Phone number: (480) 888-9290
Hours of Operation:
Monday-Thursday 9am-5pm
Friday 9am-8pm
Saturday 8am-8pm
Sunday 8am-5pm
You might want to check the driving directions before heading out on their web site or call as it can be tricky but worth the effort.
Hope you take the time to discover this local treasure and enjoy a stroll through the olive grove, a tour of the mill and some great food!
Diane Olson is a former Canadian police officer whose team of agents  has earned its reputation as Canada's go-to realtor for Canadians looking to buy vacation and investment property in Arizona.