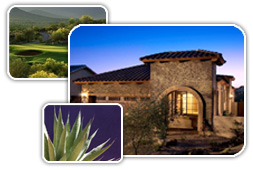 Your Guide to Arizona Real Estate
Making the decision to purchasing Arizona real estate is a big one. To get you started, here's a roadmap to help you think through the major aspects of the journey you're about to undertake.
Let's begin with the most important questions you need to ask yourself before starting down the path to purchasing a property in Arizona – what, where & why:
INVESTMENT HOME:
Many Canadians enter the Arizona marketplace looking for investment properties i.e. long term rentals that generate a positive cash flow OR that provide the greatest appreciation over time.
Although price dictates location, there is a fine line between price paid and positive cash flow. We'll point you in the right direction.
Homes on the outskirts are among the most affordable.
To be closer to major amenities, be prepared to spend more
Consider school districts and school locations for future re-sale purposes and to attract tenants with school-age children.
Hire a property manager to help you secure and manage tenants.
Many tenants sign two year leases.
If you're only interested in long-term appreciation, pick a popular area that is closer into the city and with lots of surrounding amenities including quick freeway access.
SHORT TERM VACATION RENTAL:
To be successful, you've got to think like a tourist.
Pick an area that is close to an airport, shopping, golfing and restaurants etc.
Canadians are coming to enjoy the outdoors so look for a nice yard.
There's lots of competition out there so choose nice furnishings.
Discuss rate setting with a property management company OR compare your home to other similar properties on the VRBO website.
Peak vacation rental season is January – mid April.
SECOND HOME:
Because this home is strictly for your personal use, think about the things you love to do then search around in those areas.
Many love to live in communities near other Canadians so make sure to discuss with your realtor. There is a home and a neighbourhood to meet every budget so happy shopping!
Many Canadians love condos because of the worry-free nature of a lock and leave. Others prefer a single detached home because of the privacy and yard access. Bottom line – compare pricing on condo fees vs. the cost of hiring a property manager to help you determine which you want to purchase.
Remember, price dictates location; location dictates price.
That's why you need to consider more than just price or what the pictures look like on the internet. Make sure to do your homework because, someday, you'll have to sell your property so make sure to consider crime rates, school district, access to freeways and other important amenities.
Do you know where you want to live? Have you looked at online listings to familiarize yourself with price points in different areas.
It's worth spending a few hours online looking at price points in the neighbourhoods you're interested in. For instance, if you can't afford at least $400k for a home in Scottsdale, there are plenty of other areas that are beautiful, too. If you're set on Scottsdale, consider a condo which tends to sell in the $200k range.
Keep in mind that there is an abundance of great communities in both the East and West Valley with a price point to fit every budget.
Now that you've considered the 3W's, it's time to get on with your action plan. Here are a few of Diane's top tips to help you map out your next steps:
Diane Olson is one of the few in the marketplace who truly understands real estate issues in both Canada and the US.
Being able to access this kind of expertise is critical when purchasing or selling property in another country. For starters, she has one of the best teams in the business – Arizona seasoned yet well versed and able to speak 'Canadian'! She also offers a wide and trusted network of suppliers and professional services on both sides of the border.
You might find a friend or colleague on our list of testimonials. If not, most of our clients are happy to chat and share their experiences. Drop us a line and we'll connect you to someone in your area.
There are good deals available but you need to make sure you are comfortable with the neighbourhood.
Phoenix is a city full of spectacular mountains and foothills which offer privacy and beautiful views. However, the views come with a price tag. In fact, the higher you climb the mountainside, the more expensive the home. If landscapes are important to you, make sure to hit satellite views whenever you are looking at listings.
One of the most popular myths is that Canadians are safer to purchase a home in a gated community. As a former Canadian police officer, Diane Olson offers this advice, "In my opinion, gated communities give homeowners a false sense of security. After all, any home can be the victim of a crime, regardless of its location. Always remember that the codes to gated communities are in the hands of dozens and sometimes hundreds of suppliers and service people.
They vary greatly between properties and neighbourhoods so make sure to factor them into your budget.
They are anxious to move inventory, too, and their prices are very competitive.
If a listing looks too good to be true, often it's a short sale. This is a listing where a homebuyer is trying to sell his property for less than what is owed on the mortgage. Often, the asking price is not approved by the bank so negotiations can take up to six months and still not result in a sale.
As inventories drop, competition increases. This means the best deals and the nicest properties won't last long.
This step is all about money matters and the kind of common sense advice you'll need to fully understand all the financials and cost ramifications of purchasing a home in Arizona.
Since most Canadians do their borrowing at home, you will be considered a 'cash buyer' in Arizona. This will give you leverage since you will have the ability to close quickly. Use this to your advantage.
By law, Arizona realtors are not able to provide advice on the specialized areas of taxation and title issues. This is homework you'll have to do yourself so make sure to contact a cross-border accountant you trust.
For instance, you'll want to explore the pros and cons of foreign vs. domestic borrowing, interest rate differences between the countries and the impact of fluctuations in the dollar. The bottom line is this – everyone's financial circumstances are different so we're sorry to say that there are no short-cuts on this one!
It is hard to beat the exchange rates offered by foreign exchange companies and you could save thousands on the transaction over rates offered by most other financial institutions.
Just like in Canada, property taxes are based on the assessor's valuation of your home. As a rule of thumb in Arizona, expect to pay somewhere between .8 and 1.5% of your purchase price. Unlike Florida, which charges foreign buyers extra, Arizona treats all property owners the same.
Another perk is that there are no sales taxes on the purchase of a home in Arizona.
Finally, the vast majority of communities in Arizona are locally governed by a Home Owners Association (HOA). In return for providing municipal services, homeowners are 'taxed' HOA fees on a monthly, quarterly basis or semi-annual basis. These vary greatly and can range from $300 per YEAR to $300 per MONTH. Make sure to do your homework!
A seasonal home can be insured but not all companies want to do it. Check with us and we'll share our contacts that are anxious for your business. They'll need to know how the home is being used (personal, long-term rental etc.) and, in return, will offer rates that, in many cases, are no higher than in Canada. Make sure to ask about discounts for having a security system and for bundling services i.e. car insurance etc.
The question we get asked most often is about the cost of running a household in Phoenix. While we can't estimate pricing because of the wide fluctuation in sizes of homes purchased, we can offer the following outline of services you'll want/need:
Power – both natural gas and electricity are available in most communities, except in mountainous areas where only electricity is offered
Water – city services are available just like in Canada
Cable/satellite/phone – a number of companies provide all options
Property Management – to care for all your needs including yard and home care
Pest Control – most homeowners spray every three months
Insurance & security – as discussed above
HOA fees – payments vary so check before purchasing. Usually, they are paid monthly, quarterly or semi-annually.
Taxes – as a rule of thumb, they run between .8 and 1.5% of the value of the property
Most Canadians hire a property management company to care for their home(s) while they are away. Generally, you are able to pick and choose from their list of services. A basic package includes interior/exterior checks on your home for a flat monthly fee.
Additional services offered include pool care, housekeeping and minor maintenance including pest control.
You will want to keep your air conditioning on during Arizona's hot summer months. When you leave for the season, set it between 85 – 90 degrees farenheit. Costs will depend on the size and energy efficiency of your home.
A weekly pool service is a must during summer. Again, we're happy to provide you with trusted contacts used by many other Canadians.
Finally, home security companies offer 'home automation' services which allow you to control the temperature of your home (as well as lights etc.) from the comfort of your home in Canada.
We are proud to offer our clients a full and trusted network of contacts – both in Arizona and Canada – so you can rest easy knowing you'll be in good hands, no matter what you need help with.