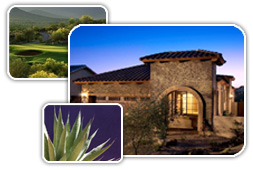 Your Guide to Arizona Real Estate
Diane Olson is one of the few in the marketplace who truly understands real estate issues in both Canada and the US. Being able to access this kind of expertise is critical when purchasing or selling property in another country. For starters, she has one of the best teams in the business – Arizona seasoned yet well versed and able to speak 'Canadian'! She also offers a wide and trusted network of suppliers and professional services on both sides of the border.
Even with a weaker Canadian dollar and the rising prices of Arizona homes, the Arizona real estate market is still much more affordable than most Canadian markets.
Making the decision to purchase Arizona real estate is a big one. To get you started, here's a roadmap to help you think through the major aspects of the journey you're about to undertake.
Investment, short vs long term rental or second home? Each of these pose different scenarios and questions.
Many Canadians enter the Arizona marketplace looking for investment properties i.e. long term rentals that generate a positive cash flow OR that provide the greatest appreciation over time.
Although price dictates location, there is a fine line between price paid and positive cash flow. We'll point you in the right direction.
Homes on the outskirts are among the most affordable.
To be closer to major amenities, be prepared to spend more
Consider school districts and school locations for future re-sale purposes and to attract tenants with school-age children.
Hire a property manager to help you secure and manage tenants.
Many tenants sign two year leases.
To be successful, you've got to think like a tourist.
Pick an area that is close to an airport, shopping, golfing and restaurants etc.
Canadians are coming to enjoy the outdoors so look for a nice yard.
There's lots of competition out there so choose nice furnishings.
Discuss rate setting with a property management company OR compare your home to other similar properties on the VRBO, Airbnb and other websites.
Peak vacation rental season is January – mid April.
Because this home is strictly for your personal use, think about the things you love to do then search around in those areas.
Many love to live in communities near other Canadians so make sure to discuss with your realtor. There is a home and a neighbourhood to meet every budget so happy shopping!
Is it a condo, townhome, patio home or standalone home?
Is it a home with privacy or the worry-free nature of a lock and leave home?
Bottom line – compare pricing on condo fees vs. the cost of hiring a property manager to help you determine which you want to purchase.
Biggest thing to remember is price dictates location; location dictates price.
Someday, you'll have to sell your property so make sure to consider crime rates, school district, access to freeways and other important amenities.
Cash in the current Arizona real estate market is not "king" but is still helpful in negotiations. The market has recovered since the crash and market low of 2011.
Do you obtain US mortgage vs paying cash – We have trusted partners we can recommend for Canadians obtain US financing.
Get tax and legal advice — the Diane Olson Team can't provide legal or tax advice although they have a great network of providers who can provide guidance.
Use a Foreign Exchange Firm – from our network of trusted partners.
Home insurance
Property checks or property management
Just like in Canada, property taxes are based on the assessor's valuation of your home. As a rule of thumb in Arizona, expect to pay somewhere between .8 and 1.5% of your purchase price. Unlike Florida, which charges foreign buyers extra, Arizona treats all property owners the same.Another perk is that there are no sales taxes on the purchase of a home in Arizona.
Finally, the vast majority of communities in Arizona are locally governed by a Home Owners Association (HOA). A homeowners association fee (HOA fee) is an amount of money that must be paid monthly (sometimes quarterly or bi-yearly) by owners of certain types of residential properties, and HOAs collect these fees to assist with maintaining and improving properties in the association. These HOA fees vary greatly and can range from $300 per YEAR to $300+ per MONTH. Make sure to do your homework!
The question we get asked most often is about the cost of running a household in Phoenix. While we can't estimate pricing because of the wide fluctuation in sizes of homes purchased, we can offer the following outline of services you may want/need:
Power – both natural gas and electricity are available in most communities, except in some mountainous areas where only electricity is offered.

You will want to keep your air conditioning on during Arizona's hot summer months. When you leave for the season, set it between 85 – 90 degrees Fahrenheit. Costs will depend on the size and energy efficiency of your home.
A weekly pool service is a must during summer. Again, we're happy to provide you with trusted contacts used by many other Canadians
Home security companies offer 'home automation' services which allow you to control the temperature of your home (as well as lights etc.) from the comfort of your home in Canada.

Water – city services are available just like in Canada
Cable/satellite/phone – a number of companies provide all options
Property Management – to care for all your needs including yard and home care
Pest Control – most homeowners spray every three months
Insurance & security – as discussed above
HOA fees – payments vary so check before purchasing. Usually, they are paid monthly, quarterly or semi-annually.
Taxes – as a rule of thumb, they run between .8 and 1.5% of the value of the property
We will assist you with the following
We highly recommend a home inspection which will be completed by a licensed home inspector. The expensive is paid for by the buyer..
The inspection will include, but not limited to, plumbing, electrical and roof.
Almost no home is going to be perfect (even new or recently built construction). Inspectors will usually discover some issues needing attention or that the buyer and seller should be aware of.
You will be provided with a written report, along with supporting pictures, of issues identified by the inspection.
Any and all repairs are negotiable and it is our job to best assist you in the process.
Termite inspections are as important and are usually in conjunction with the home inspection.
All financing deals require an appraisal and are ordered by the financial institution.
The appraisal will determine the current market value of the home and in finance transactions; the price must at least meet the contract accepted purchase price.
A cash buyer isn't required to waive the appraisal process and is their option to have one completed.
A property is required to have home insurance if a lender is involved. This is typically arranged prior to taking possession of the home.
Closing on a property is much different in Arizona than in Canada and is completed by the use of a Title Company and not a lawyer/law office.
Once the parties to the transaction (buyer/seller/ender and/or borrower) have reached an agreement, the signed contract or purchase agreement, along with the buyer's earnest money deposit, is submitted to the escrow holder which is consider escrow to be opened.
The escrow holder will now follow the future written instructions of the buyer and seller, maintaining a neutral stance to facilitate the successful exchange of money and property between the parties.
During the escrow period, the title department begins researching and examining all historical records.
The transaction may include the following:

Opening escrow and deliver earnest money deposit to held in a separate escrow account.
Conduct a title search to determine ownership and status of the subject property
Issue a title commitment and begin the process to delete or record items to provide clear title to the property. If applicable, request payoff information from the seller's loan, other liens and HOA fees.
Prorate fees, if applicable
Prepare a settlement statement and set up appointments require for closing
When all funds are deposited, record documents at the county recorder to transfer the subject property to you.
After recordation is confirmed, close escrow and disburse funds, including seller's proceeds, loan payoffs, real estate agent's commission and related fees for recording.
Contact Diane to discuss your potential purchase and help you plan your road map! We are proud to offer our clients a full and trusted network of contacts – both in Arizona and Canada – so you can rest easy knowing you'll be in good hands, no matter what you need help with. We will make your experience of purchasing an Arizona property stress free and easy!